HORSE RIDING TOUR at Terkh White Lake
Duration: 10 days trip
1,323USD per person based on 2 person
946USD per person based on 4 person
---
DETAIL TOUR ITINERARY
DAY 1. ULAANBAATAR
Arrival in Ulaanbaatar. Meet our guide and driver at the airport. Transfer to hotel and check in. We will have a welcome dinner at one of the most famous restaurants in Ulaanbaatar and then return to the hotel.
---
DAY 2. ULAANBAATAR - KHARKHORUM ANCIENT CITY
After breakfast in hotel, we will head to the Elsen Tasarkhai, located 275 km west of Ulaanbaatar, is a unique combination of forested mountains and desert type landscape in one location. Great place to ride a camel. After lunch drive to the ancient city Karakorum 90 km and have short excursion to monument dedicated to Greatest Dynasties of Mongolia. Excursion to Erdenezuu monastery, one of the first Buddhist monasteries in Mongolia. It is surrounded by a monumental wall with 108 Stupas measuring 400x400 m.
Overnight in ger camp at Karakorum.
---
DAY 3. KHARKHORIN ANCIENT CITY - TERKH WHITE LAKE
After breakfast, visit the Kharakhorum Museum, and drive to Tsetserleg town of the Arhangai province. After lunch at the camp, we will continue trip to see amazing scenery of Terkh White Lake and extinct Khorgo volcano which active 8000 years ago. After seeing extinct Khorgo volcano crater we will have dinner in shore of Terkh white lake's tourist camp. Terkh White Lake surrounded by spectacular scenery of plants, forests, mountains, and fauna. Hiking, horse riding, mountain climbing, fishing and swimming are all good here. Stay overnight at tourist Ger camp. The Khorgo volcano is located near the eastern end of the lake and the Suman River springs from lake.
---
DAY 4 - DAY 7. HORSE RIDING DAYS
After breakfast we will start our horse riding trip heading to Nariin river and pass through local nomad family which we can see closely their daily life process and greet with. We will tent in that area near by the nomads.
Second day of the horse riding trip we will have breakfast and head to the beginning part of Hunjiliin River. This day you will be already have much more experience and connection with your horse, we will spend more longer riding day, lunch and dinner will served as picnic, and stay overnight in that area.
Third day, after breakfast we will head to Surtiin river our trip will continue through majestic mountains. And on our fourth day we will head to the resort during lunch time we will come over and have lunch, take a rest.
---
DAY 8. UGII LAKE
Early depart to the Ugii lake. On the way to Ugii Lake, and ascend one of the biggest pass in Khotont soum, Arkhangai province and drive to Ugii lake. Bird watching and fly fishing are available. Stay overnight at tourist camp.
---
DAY 9. COME BACK TO ULAANBAATAR CITY
After having breakfast drive back to Ulaanbaatar city. On the way to UB arrive in Khustai National Park during lunch time. After lunch visit to Khustai National park to see wild horse Takhi also called Przewalski, deer and other wild animals, which will take around 2 hours. Continue driving to Ulaanbaatar and transfer to hotel. Dinner at restaurant in the city.
---
DAY 10. DEPARTURE
After breakfast head to airport/International Train Station. End of tour.
---
Tour route map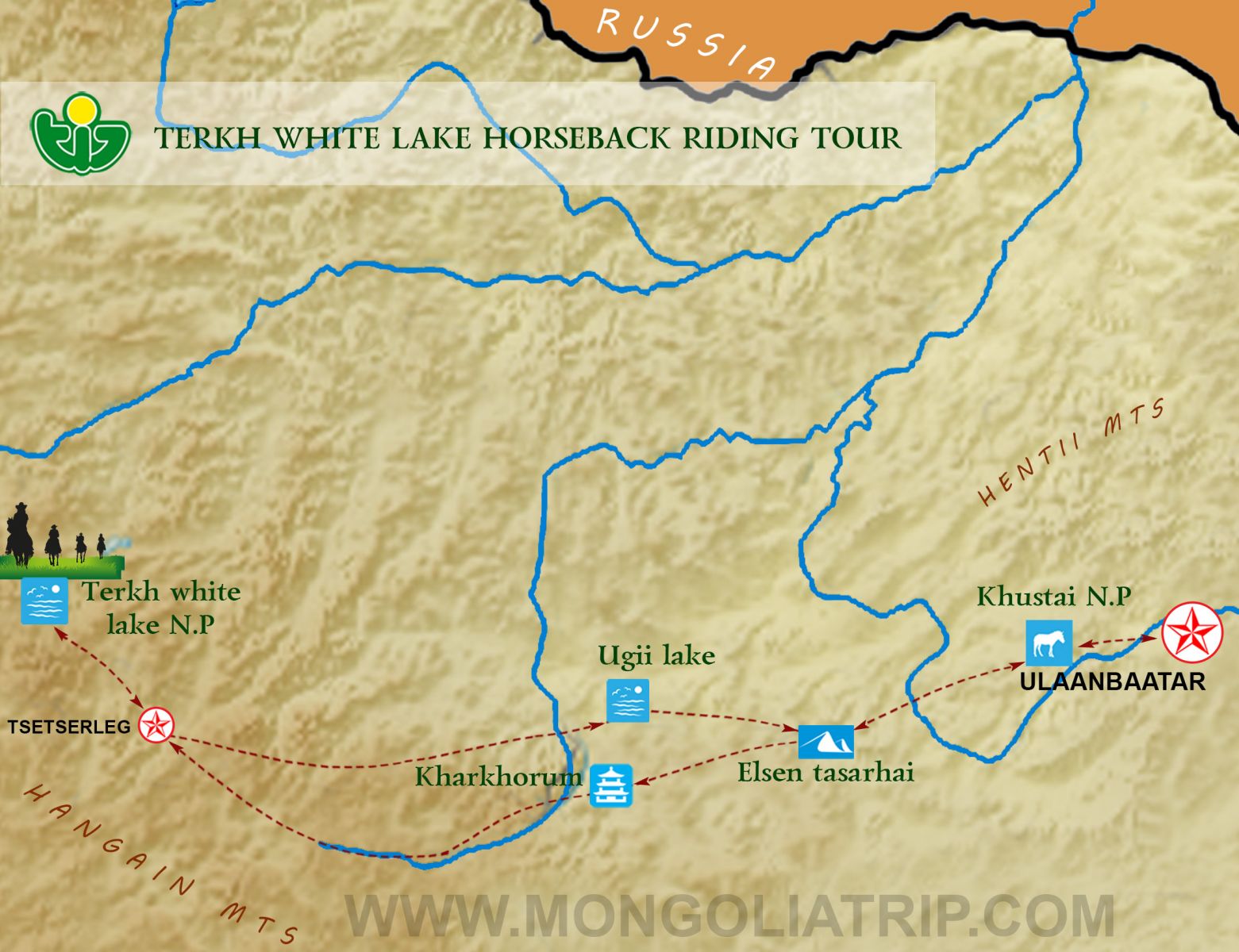 Tour cost included
Hotel in Ulaanbaatar for 2 nights
Ger camp overnights
All meals in itinerary
Transportation 4 WD vehicle
Chinese or English language Guide
Sightseeing entrance fee
National park entrance tax
Camel riding one hour
Horse riding one hour
2 Bottles (0.5ml) water per day
Tour cost excluded
International airfare or train cost
Travel Insurances
Beverages (soft drinks and alcoholic)
Any additional expense not mentioned above
Tips for local guide/drivers