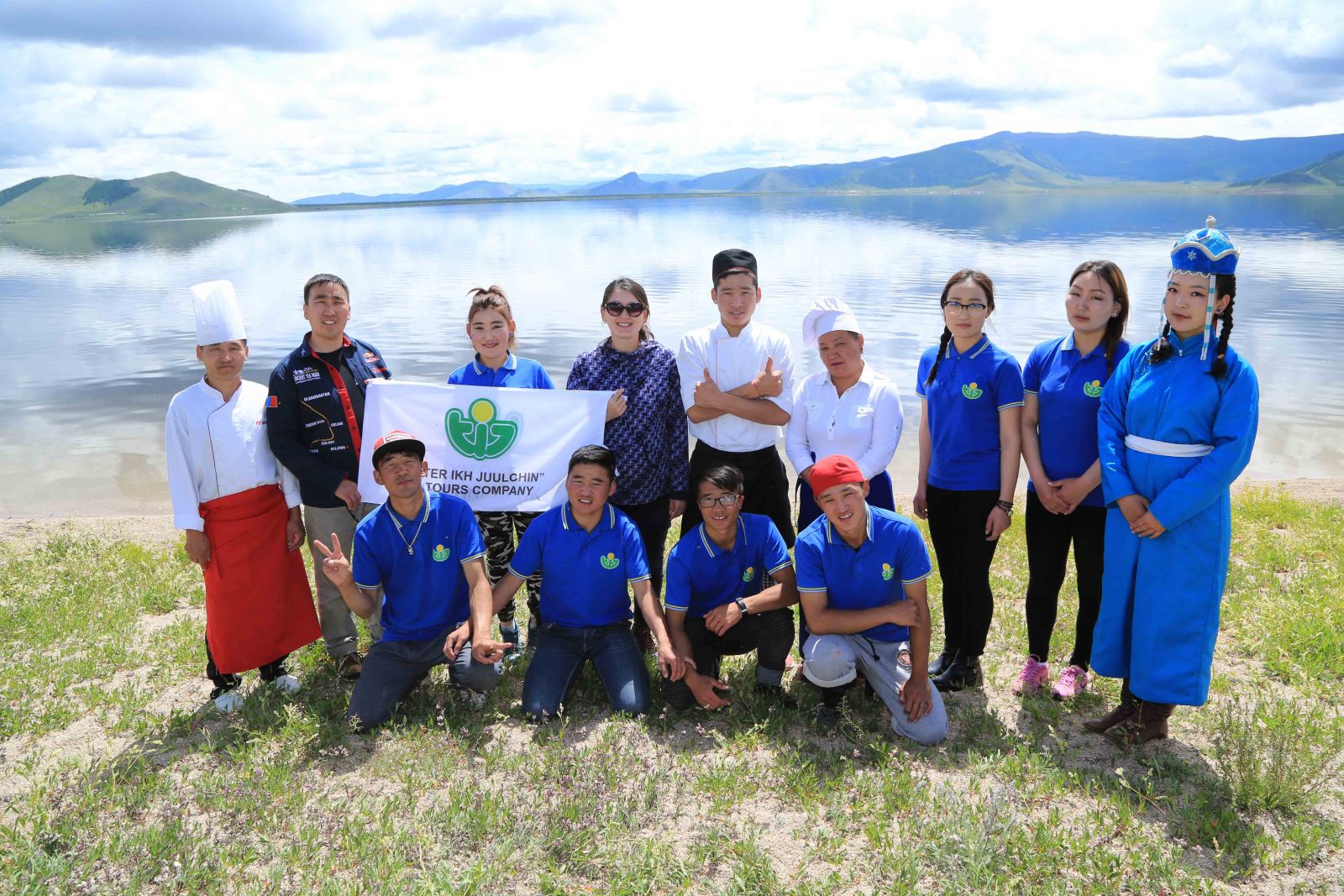 Ter Ikh Juulchin company is highly aware of its social responsibility through spreading Mongolian cultural heritage to its youth and foreigners and aiming to operate no or low harmful in nature. We organize and sponsorships following activities every year, such as, Mongolia's one of the most common cultural event as worshipping a hill, to familiarize Mongolian horse-related culture, to help the youth and children to improve and to protect the knowledge of being eco-friendly, being environmentally safe, and doing a restoration in nature.
---
2019
Tariat soum's local Naadam festival in July 9, 2019 has been sponsored by TER IKH JUULCHIN Company.
2018
Rehabilitation of 140 sq.m area at the shore of Great White Lake.
2017
Eco-friendly SEPTIC system has been built-up at Maikhan Tolgoi tourist camp, which was the first facility in Arkhangai province.
Train locals about Eco-friendly SEPTIC system – TIJ Company has provided training for local people and owners of guest houses and other tourist camps about the efficiency of SEPTIC tank and its systems how it has no harm on environment.
Winter Horse Festival has been conducted 6th time in Batnorov soum, Khentii province successfully and attracted over 5000 visitors in its history.
2016
"Ice Racing – 2016" motor sport competition has been organized to restore stagnant Mongolian winter sport activities and to develop and improve technical knowledge of safe driving for the amateurs and to prepare athletes to participate in international competition.
"Winter horse festival" has been organized in collaboration with the Governor's office of Khentii province with the purpose of spreading Mongolian horse heritage and culture and to show off the herders' tolerance, energy and valor to the society through photographs.
---
2015
"Hope & Possibility" Ulaanbaatar International Marathon - TIJ Company has financially and organizationally supported the marathon in order to involve with disabled people, which is organized by Achilles International Mongolia NGO.
China National Tourism Agency's expert Mr.Su Feng Fei and Mr.Bao Xiao Dong have arrived in Mongolia with our invitation to meet and advice to Mongolian tour operators about developing and expanding their market into China.
"Chinese-speaking guide training" short term program has been organized 2 times with the intention to provide summer jobs for unemployed youngsters and students.
Maikhan Tolgoi tourist camp had built new 6-room dormitory for their staff for improving their living conditions, who work apart from their home for 3-5 months.
"Khorgo, Great White Lake – Unspoiled environment" cleaning campaign funded and organized with the aim of environmental waste reduction, save ecology and its clean water and to raise the awareness of community in the surrounding areas since 2008.
"Khentii – Heart of Mongolia" photo exhibition and joint trip had been organized among professional photographers, travel journalists and researchers to discover new destination and to support tourism in Eastern Mongolia for domestic and foreign travelers.
"Yak Festival 2015" had been funded and organized with the cooperation of Swiss Development Agency and other local organizations to ensure the stability of the head of Mongolian yaks and to improve the management of pastures and keep and spread Yak's heritage and its culture on the shore of Great White Lake.
---
2014
Mongolia – Russia – China International children's tour has been held to involve the Mongolian children in low standard living condition.
"TER IKH JUULCHIN Grove" tree planting campaign has been planted more than 2000 trees in Ulaanbaatar.
Chinggis Khan Grand Prix 2014 - TIJ professional multi-language interpreters had been worked during the A level International Judo competition.
2013
Ceremony of Worshipping hill at Great White Lake has been revived by TIJ Company to protect the wild environment and its cultural heritage.
---